Technologies and Services
Solvent Recovery Technology (Recovery and Purification)
Organic solvents (such as NMP, DMF and DMAc solvents) used at plants are recycled with a full automatic facility! Environment-friendly and energy saving technology.
The gases generated from organic solvents (such as NMP, DMF and DMAc solvents) used at plants are collected, purified and recycled on the production site.
The eco-friendliness and cost reduction can be achieved simultaneously.
Advantages and Features
1
High Quality and High Recovery Rate
We achieve the purified NMP concentrations of 99.9 wt% or more. For recovered DMF and DMAc, the concentration is 99.8 wt% or more and the recovery rate is 95%. By utilizing our know-how and operating technologies, we achieve the high quality and high recovery rate.
By purifying the NMP solvent, which has been purified by the contractor, on the production site, the external purification cost, transport cost of the solvent, CO2 emissions can be reduced. Since the mixture with solvents used at other plant can be avoided, the solvent can be purified with a minimum energy.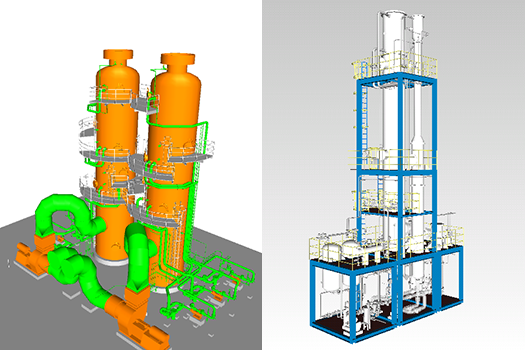 3
Full-Automatic Operation
By using PLC, the facility is operated automatically from startup to shutdown. The facility can be operated by persons who do not know the solvent recovery/purification facility well.
We have delivered 35 units of the NMP purification facilities. For the DMF/DMAc purification facility, we have delivered 48 units. We have delivered the facilities all over the world.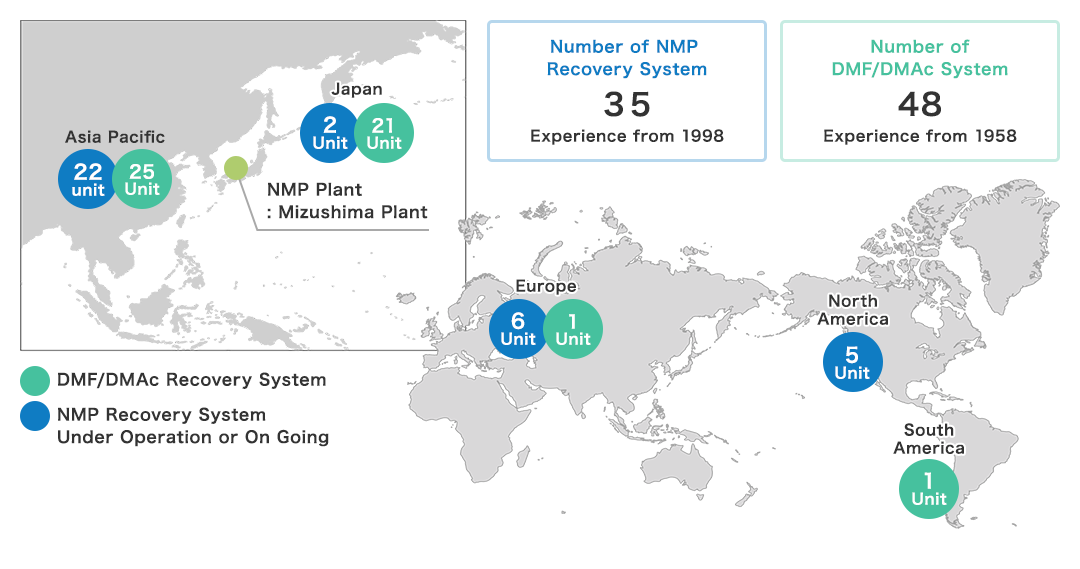 NMP Recovery Unit & NMP Purification Unit
The NMP recovery unit absorbs and recovers NMP gas generated in the manufacturing process of lithium ion secondary batteries and prevents air pollution. The recovered NMP solvent is sent to the NMP purification unit and purified to the high concentration of 99.9 wt% or more. The unit is operated automatically and controlled to shut down safely in the event of an emergency. Compared to when the solvent is not recycled, the on-site recycling can reduce the running cost to about one-tenth.
In comparison with the recycling by a contractor, the on-site recycling can reduce the running cost to about one-fifth.

*1

Recycle Drying Gas : In case of Dry Recovery Process
DMF/DMAc Recovery System
The DMF/DMAc recovery system recovers the wastewater containing DMF and DMAc that are generated in the manufacturing processes of polyurethane synthetic leather, acrylic fiber, printed circuit boards, and hollow fiber membrane for artificial dialysis to a high purity of 99.8 wt% or more.We establish a purification system that is optimal for each customer using various energy saving technologies, such as multiple-effect distillation, vapor compression, and self-heating regeneration. Furthermore, we have patented technologies to reduce and eliminate solid contents that are generated in the reaction process. Thus, we can propose suitable concentration systems.