Solutions
For Overseas Business
Crossing the barriers of cultures and languages, we support the overseas expansion of customer businesses by providing licenses, proposing solutions, and delivering total engineering services.
1
Support for Process License Business
We support process license sales for the overseas business conducted by Mitsubishi Chemical Corporation, our parent company, and Japan Polyethylene Corporation, our affiliate. We provide integrated engineering services for the preparing of the basic design materials required when provided process licenses, process design, equipment design, equipment procurement, plant construction, and test runs.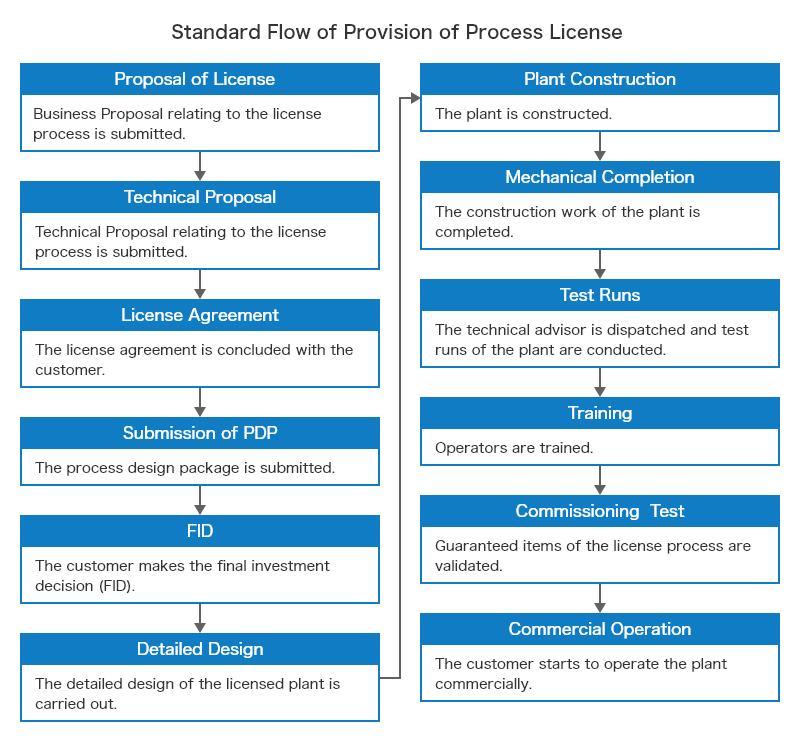 2
Plant and equipment – Solvent Recovery and Purification facilities / Cyclone Scrubber
We deliver solvent recovery and purification facilities in Japan and abroad. In particular, a number of NMP solvent recovery and purification facilities have been adopted overseas with the increase in global demand for lithium-ion batteries. In addition to the technologies to recover and purify NMP solvents, we offer a variety of benefits for customers, such as reducing overseas construction periods and costs using a modular construction method.
NMP Solvent Recovery and Purification System
N-Methyl-2-Pyrrolidone (NMP) has very high solubility and is used for the manufacture of a variety of chemicals from mass to fine chemicals. Conventionally, the NMP solvent gas generated in the manufacturing process for the materials in lithium-ion secondary batteries is sent to companies that specialize in NMP purification for recycling; the quality of the purified NMP solvent and reducing the treatment cost have been issues in recycling. We delivered NMP recovery and purification facilities abroad to purify NMP solvent with stably quality at low cost for production sites.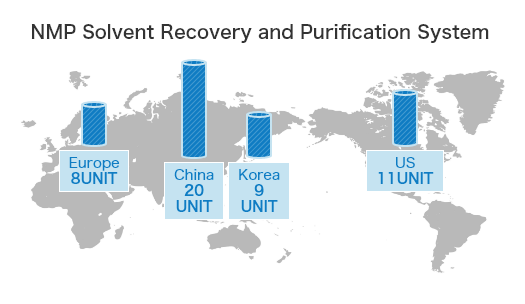 DMF and DMAc Recovery and Purification Facilities
N, N-dimethylformamide (DMF) and N, N- dimethylacetamide (DMAc) are reaction solvents for synthetic fibers and synthetic resins. We offer DMF and DMAc solvent recovery facilities with the following features abroad.
Features
Capable of recovering and purifying DMF and DMAc solvents with high purity (achievement: 99.8 wt%)..
Optimal design to suit customer needs by eliminating solid content and employing energy-saving technologies.
More than 25 facilities have been delivered abroad.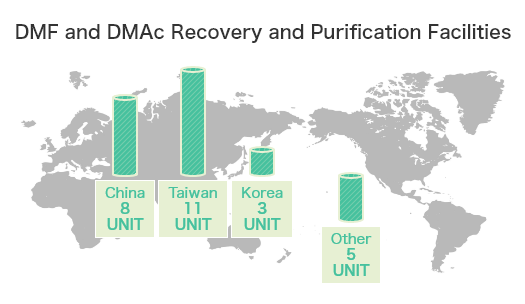 Cyclone Scrubber
In high-pressure polyethylene manufacturing facilities, the decomposition reaction occurs occasionally in the polymerization reaction process, and the temperature and pressure rise suddenly. The Cyclone Scrubber is a safety measure to reduce the noise of the reaction, collect all dust particles, and prevent ignition.
3
Total Engineering Services for Overseas Plant
Our one-stop engineering services for plant construction projects provide basic planning, design, procurement, and fabrication of the equipment to test runs and after-project services. We also offer the necessary and flexible support to meet specific requirements that differ in each country to help your business expand overseas from the standpoint of the customer's overseas plant construction project team.
In many cases, the local procurement of equipment and material for the construction project is required to reduce construction costs and in consideration of maintainability after completion. We promote construction projects through the global network of the Mitsubishi Chemical Group and our well-developed overseas procurement function. For overseas procurement, process control after placing orders and attendance inspections are very important, including the set of procurement tasks for finding and examining suppliers, responding to inquiries, answering requests for and examining quotations, and negotiating prices. Thus, overseas procurement should be controlled more carefully than domestic procurement.
We also perform tasks peculiar to the overseas procurement, such as checks and reviews of suppliers' drawings and responsible adjustments of deliveries to the construction site.
Implementation of Overseas Projects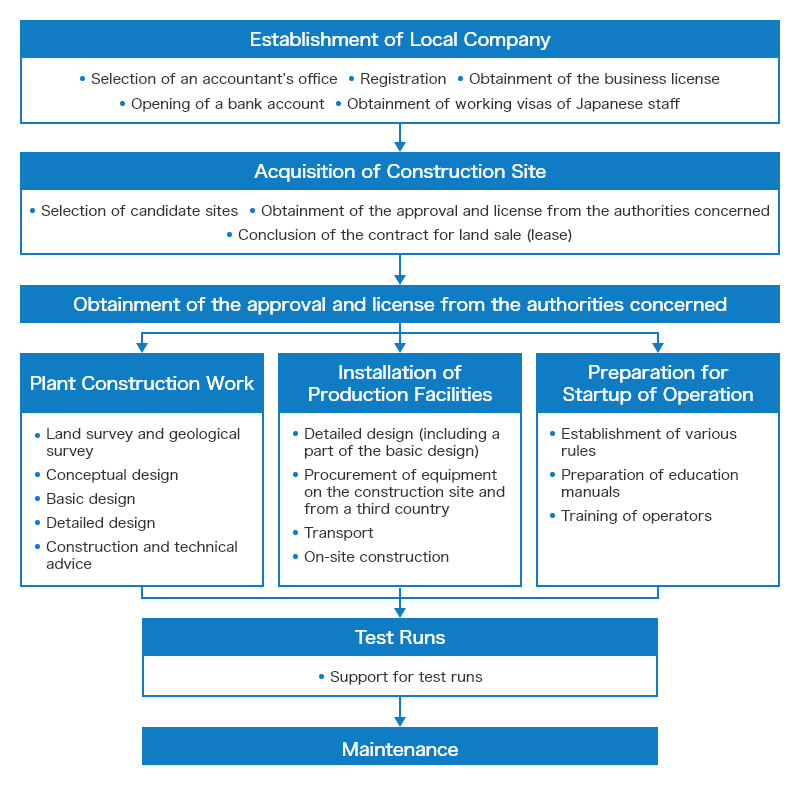 Example: Flowchart of Overseas Procurement Work